It's so hard to erase old news! One never know if it will hold that link or that resource that someone is looking for. So, for that one person, we are keeping all our old news here in this archive. Have fun!
Last updated June 20, 2018
Funbridge comes on board as Gold Sponsor of Great Bridge Links
We're very exited today to introduce a new Gold Sponsor for Great Bridge Links. Funbridge is an app that allows you to play bridge online. You can play an unlimited number of deals on all your devices (and all platforms) with a single account. Play at your own pace against engines and be rated against thousands of other players.  Read more here –>
$360,000 USD up for grabs in the annual Yeh Bros Cup. Staged by the Beijing Bridge League, the Yeh Bros Cup includes Open Teams, Swiss Plate and Open Pairs. Entries from all World Bridge Federation Zones are on an invitation basis. Patron is Mr. Chen Heh form Taiwan. This year there are 28 teams including 3 from the USA and 4 from China. Can't find an official site yet, but you can view a listing of players here
NEW!! Bridge in A Box™ by Patty Tucker.  Contains playing cards, player workbooks, a table mat, a quick start option and access code for four people to a video tutorial and an app. Learn bridge at your convenience, the way you prefer to learn, and at your own pace in your home. Patty and her project can be found on Kickstarter and she hopes to release the product at the NABC in Atlanta. You can find Patty's website here and her Kickstarter here.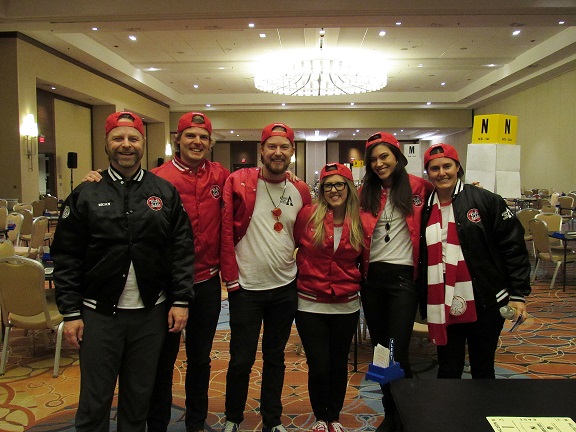 The Kids Table – a forthcoming documentary about four millennials learning and playing bridge. Coach Brian Reynolds, Edd Benda, Paul Stanko, Monique Thomas, Stefanie Woodburn, and coach Samantha MacDouglas are making a documentary about learning bridge in their 20s. Read more here –>
Eric Murray 1928-2018 . ACBL Hall of Fame member and great Canadian player Eric Murray died May 19. He was 90 years old. A Grand Life Master, Murray won 14 NABC titles and countless Canadian championships. An iconic figure in bridge, Murray was a force at the table and also in bridge governance. Read many comments and tributes on Bridge Winners here –>
Bridge Sponsorship Can Help You Succeed – Are you planning a special bridge event? Does your little bridge club need extra support. Does your bridge team want to enter a competition that will require a bit of sponsorship help? Sponsorships can be the key to success for a program, team or bridge club. We've gathered 6 Tips  to help you get started. Read more here –>
ACBL Chief Executive Dismissed – Bahar Gidwani, chief executive officer of the ACBL, has been relieved of his duties according to ACBL President Jay Whipple. Read more here ->
The search for a new CEO for the ACBL – A special committee has been appointed by ACBL President Jay Whipple to fill the organization's top management position. Read more here –>
Have you heard about BridgeTab?  (by Jannersten Forlag) is a new approach to scoring bridge tournaments using a standard tablet device. Intuitive interface makes it easy to use for players and TD alike. Read more here –> | Click here to learn about using BridgeTab on an Amazon Fire Tablet by Matthew Kidd.
ACBL Top Players Rally Over Cheating Fears. Although well-publicized disciplinary hearings in North America and Europe have resulted in the permanent banning of several top pairs convicted of collusive cheating, some of the accused have turned to civil courts to have their sentences overturned or reduced – and they're turning up at competitions. Read more here ->
ACBL to start selling online entries. The upcoming Summer NABC in Atlanta will be the last NABC at which Bridge Winners will be providing online entries. Under the leadership of its new CEO, Bahar Gidwani, the ACBL has begun updating its entry-selling processes. At the last two NABCs and at regionals around the country the ACBL has implemented a system to accept credit cards for entry purchase. Starting in the Fall the ACBL plans to continue its expansion and sell entries online. Read more here ->
New event at the World Bridge Teams Championships. Starting 2019 a Mixed Teams Championship will be added alongside the Open (Bermuda Bowl), Wome n's (Venice Cup) and Seniors (d'Orsi Trophy) at the World Bridge Teams Championships.The Zonal Conferences will hold qualifying Championships/Trials as they do for the other categories. Read more here ->
The new ACBL Convention Charts – The ACBL Board of Directors approved  New Convention Charts at the NABCs in Philadelphia. Effective the first day of the 2018 Fall Nationals in Honolulu, there will be several articles in the ACBL Bulletin introducing the new charts. You can view them here.
The hour of AI has arrived! A non-human is inducted into the ACBL Hall of Fame for the first time in history. Read more here ->
The Best Bridge Writer – Discussion on Bridge Winners this week offers a fantastic list of great bridge authors, their books, and what makes them great. Who would be your pick for the best Bridge Writer?
The World Bridge Federation opens Robot Bridge Tournaments with WBF Masterpoint Awards Click here.
---
New Podcasts from John McAllister
Currently up are An Interview with Gavin Wolpert, Professional Bridge Player, and Hammond: The Legend. Available through iTunes .
---
Bridge Magazine closes – and opens
BRIDGE Magazine (U.K.), has ceased publication with the December 2017 issue. BRIDGE was the world's oldest bridge magazine, having begun publication in 1926. In 2011, the magazine went from a printed to an online format. The magazine's editor, Mark Horton, and its jack-of-all-trades, Ron Tacchi, have begun publishing "A NEW BRIDGE MAGAZINE" online. The new magazine will be offered free of charge. To receive notification each time the new magazine is published, go to
www.newbridgemag.com
and register
(Source: IBPA Bulletin, Jan 2018
---
Minibridge is now available online.
 Minibridge is like a typical game but without the auction. Because bidding is sometimes one of the more stressful parts of bridge, Minibridge is a fast, easy way to jump in and start playing. Powered by Bridge Base Online, the online Minibridge allows players to pick the trump suit and predict the number of tricks they think they can take. Then your students play the hand as usual. While you're introducing your students to the game, show them how they can practice online with Minibridge. They can access it at
acbl.org/minibridge 
(Source: IBPA Bulletin, Jan 2018)