NEWS ARCHIVE
It's so hard to erase old news! One never knows if it will hold that link or resource that someone is looking for. So, for that one person, we are keeping all our old news here in this archive. Enjoy!
The WBF has announced the first ever World Online Championship (WOC) beginning in 2020. Players will purchase tournament entries in batches to play on BBO, FunBridge or Synrey (CBO) against robots. Player's best results count toward qualification for the WOC Final next fall. Read all about it here –>
---
Micro Bridge (by Tomio and Yumiko Uchida) won the 2019 World Computer Bridge Championships. Micro Bridge unseated 3X Gold Medalist Wbridge5 in the semi-finals and then went on to defeat Synrey Bridge in the Finals. Micro Bridge, a Japanese product that runs only on Windows, was a 5 time runner up. The annual event attracts bridge-bots from developers all over the world, with this year's bridge-bot developers from Japan (Micro Bridge), China (Synrey Bridge), France (Wbridge5), Germany (Q-Plus Bridge), The Netherlands (RoboBridge), India (TCS BridgeBot) and the USA (Meadowlark Bridge). For all the results of this year's event and the 23-year history  visit the Championship Website here >>
---
NEWS FROM THE WORLD BRIDGE FEDERATION
2020 List of Prohibited Substances and Methods now in force. All NBOs and participants in World Bridge Federation events are asked to take note of this updated list and ensure that all the requirements regarding applications for TUEs are fully complied with. Read more here ->
The World Bridge Federation announced Dec 23, the location and dates for the 2020 World Championships as Salsomaggiore August 21 to September 4th. Events will include: The Vanderbilt Trophy – The Open Teams; The Torlontano Trophy – The Women's Teams; The Seniors Teams; World Mixed Teams Championship; The Open Pairs; The Women's Pairs; The Seniors Pairs; and The Mixed Pairs. Read more on the WBF website
---
From New Bridge to Be Bridge. Mark Horton, Editor of A New Bridge Magazine, announced today that February 2020 will be their final issue. Being reborn from the ashes into something new and exciting, while still carrying some of the feathers from the Phoenix past is rare for a magazine these days and yet New Bridge has done just that. Read more here ->
The 44th World Bridge Team Championships, 14-28 September, 2019. Bermuda Bowl, Venice Cup, D'Orsi Senior Bowl, Mixed National Teams, and the 12th World Transnational Open Teams. Wuhan International Convention Center, Wuhan, Hubei Province, China. Great Bridge Links is gathering all the links on their World Bridge Championship Jump Page here ->
The 2019 Michael Seamon Junior United States Bridge Championships (MSJUSBC) will be held December 27-30/31, 2019, at the Hyatt Regency in Atlanta. Players will compete in four categories: 1) open under 16 years old (U16; born in 2005 or later; 2) open U21 (born 2000 or later); 3) open U26 (born 1995 or later); and 4) women U26 (Rona Cup; born 1995 or later).  Read more here –>
Fred Gitelman Retires from Bridge Base Online. What will Fred do now? Fred and his wife, Sheri Winestock, started Bridge Base in 1990 in Toronto, creatingprograms to help people learn bridge. He started Bridge Base Online in 2001, and it has grown into the indispensable platform we all recognize today, allowing people to play, watch, and learn bridge for free. Read more on Bridge Wenners here –>// * NEW * Read our Interview with Fred Gitelman here –>
Beth Palmer of Silver Spring, MD, holder of seven world bridge championships (6 women's, 1 mixed) and over 25 NABC championships, passed away Wednesday at the age of 67. News and comments on Bridge Winners here ->
Kibitzing on Twitch: Watching and Broadcasting Bridge Online. Twitch.tv is one of the most popular platforms for streaming and broadcasting games of all types. Bridge players and fans are catching on, and the number of people logging in to kibitz is on the increase. Read more here ->
International Bridge Press Awards (IBPA) – At their annual general meeting in China, the IBPA presented three awards. The Alan Truscott Memorial award was presented to Simon Cocheme (for his humorous articles over thelast two decades), the John E. Simon Award for sportsmanship was presented to the Australian junior team for their actions in correcting ascoring error in the recent Opatija knockout, which led to a match goingto extra boards. And the Masterpoint Press book of the year was awarded to Jeppe Juhl's 'Master of BridgePsychology — Inside the remarkable mind of Peter Fredin'
The World Youth Championship Opatija, Croatia • 20 – 29 August 2019. Pairs are being crowned tonight. Teams qualification start tomorrow. Follow the championships and read bulletins here!
---
New film – The Kids Table – premiers in Las Vegas. A new documentary from Beyond the Porch Productions and the ACBL Educational Foundation follows four young friends as they navigate the highs and lows of competitive bridge. * NEW * Read our story here –> // Watch the trailer here ->
IBPA MPP Book of the Year Shortlist. From the president of the IBPA Barry Rigal: This year, we had an unusually large number of nominees (ten) for the Master Point Press IBPA Book of the Year. We have winnowed those ten down to a shortlist of six, presented here with blurbs from their publishers. This is without doubt the most-unusual collection of bridge books on any shortlist since MPP began sponsoring the award 15 years ago. Read list and comments on Bridge Winners here –>
Thousands of bridge lovers from around will convene this month in Las Vegas at the ACBL's Summer NABC, July 18-28. Follow the action on their website here. Also at the same time is the Youth NABC click here and the Collegiate Bridge Bowl click here. Not able to attend? You can play in an online Robot NABC Tournament click here.  And DAILY BULLETINS ARE UP! Click here ->
What Michael Xu wants you to know about pizza.  A search for the name Michael Xu  on Bridge Winners where will garner 1505 hits. Read an interview with this charming young bridge player here.
"Even though I don't know you readers personally, I want to hug and crush you into a different dimension, a dimension where there is no other worries, where we can just enjoy the mystical wonders of bridge for eternity." ~ Michael Xu
Introducing the North American Bridge Federation (NABF). When the ACBL refused to submit to the authority of  Olympic anti-doping mechanisms, it could no longer act as a Zonal Authority in th WBF – so the NABF was born. Read more here –>
Rest in Peace George Rosenkranz. Dr. Rosenkranz won a dozen North American championships. He created bidding systems, wrote 15 books on bridge and was inducted into the American Contract Bridge League Hall of Fame in 2000. Mrs. Edith Rosenkranz, one of Mexico's top players, often accompanied him on tournament trips. Also a renown chemist whose discoveries lead to modern day birth control, among other things, Rosenkranz was 102 when he died on Sunday in his home in California. Read his colourful history in this New York Times article. Read tributes from the bridge world on Bridge Winners here.
June is a month of Zonal Championships!
Jun 11-20 52nd APBF Championships Singapore. Results
Jun 15-29 9th Open European Championships, Kusadasi, Turkey. Daily Bulletins.  eurobridge.org
Jun 23-30 20th BFAME Championships Amman, Jordan. Website.
GOTO Games and Le Bridgeur Merge. A few months after the merger between BBO and Funbridge, GOTO Games steps up its development with the acquisition of Le Bridgeur, increasing its presence in the bridge market as part of a global strategy. Read Press Release
---
World's Number One bridge player stripped of medal. The bridge world was shocked earlier this month to hear top bridge player, Norwegian-born Geir Helgemo, has been stripped of his 2018 World Championship titles, medals and points by the World Bridge Federation and banned from the game until November, 2019 with immediate effect. This after a random drug test during the 2018 World Bridge Series in Orlando, Florida discovered banned substances in Helgemo's system. Read more here –>
---
Jeff Meckstroth and Eric Rodwell have been let go by the Nickell team, effective in 2020, to be replaced by Geoff Hampson and Eric Greco. Thomas Bessis and Frédérick Volcker will join the Fleisher team to replace the departing Hampson/Greco. (Source: IBPA Bulletin March 2019) Who are these guys ? Read more here –>
---
This year will mark the ACBL's seventh year as the Alzheimer's Association's inaugural global partner for The Longest Day, and they are looking forward to bringing new energy and support to clubs across the country who work so hard to plan and execute the fabulous events that support The Longest Day Fundraiser. Teams can select a day during the week of the summer solstice, June 16-23 to play bridge from sunrise to sunset, host an event, or just play one game. Learn how you can participate in The Longest Day
---
Fun Times with the Lion Continue – Award-winning LeoVegas Mobile Casino signs on as a Great Bridge Links Gold Sponsor for 3rd year in a row. Read more here –>
---
Canadian Bridge Championships in Vancouver. You can catch up with the action on the CBF Championship website here. We've posted a lot of photos on the CBF Facebook Page. There are also daily bulletins (editor Eugene Chan) which I'll post here. Day 1 | Day 2 | Day 3 | Day 4 | Day 5 | Day 6 | Day 7
---
The Best of Both Worlds: BBO and Funbridge – Bridge Base Online and GOTO Games' Funbridge are two highly successful bridge platforms in their own right, and the recently announced merger has a lot of players wondering about why the two companies have decided to join forces – and how it will affect the future for players on either platform.  Read Alex's article here –>
---
Billy Rosen (1928-2019). Billy Rosen, whom Alan Truscott called one of the "greatest names in the game," has died at the age of 90. "A 100% natural bridge player, he played the game with great ethics and ferocity and will always be remembered … as a total winner and great competitor." Bobby Wolff and others give tribute to this great player and great man on Bridge Winners here –>
---
Jose Damiani Answers Questions. As President of the French Bridge Federation, European Bridge League, World Bridge Federation, and most recently, the International Mind Sport Association, Dimiani has been the leader of the movement to define bridge as a sport, culminating in the International Olympic Committee's recognition of the WBF as a World Sport Organization. Damiani answers questions on Bridge Winners' In The Well –>
---
It's Your Lucky Way. Bridge players tend to be eccentric, and the game gives them plenty of reasons to be concerned about their luck, so it's not surprising that many have superstitions. What is your lucky charm? Read more on Bridge Feed here –>
Almost 400 people attended the world premiere of "Aces & Knaves" at the Halloran Centre for Performing Arts on Monday at the Memphis NABC. Read story on Bridge Feed here –>
Three Electected into the ACBL 2019 Hall of Fame. Congratulations to Peter Boyd, Bart Bramley, and Judi Radin. Read more here –>
Calling all young players – your National Bridge Organisation has been invited to nominate an under 26 and an under-16 team to play in the 2nd edition of the Youth Online Teams Championships starting this March. The World Bridge Federation hopes your country will be able to do this and maybe you could help by contacting them if you wish to take part then maybe they will select you and your partner to play! Contact your NBO today –BridgeScanner™ is advertised as an easy to use and powerful platform, to create and manage, promote and optimise Bridge events around the World. So far available in English, Polish and Russian. We interviewed the CEO – read the story here –>
World Bridge Federation – recent documents. Click on links to view PDF. 2019 World Youth Open Bridge Information Letter PDF here. 2019 World Team Championships Information Letter PDF here. Commentary on the 2017 Laws of Duplicate Bridge Click here.
Finnish Bridge Federation (FBF) recognizes gender variance in the conditions of contest. FBF competitions, where gender categories matter are women and mixed events. In women events, both players must self-define themselves as women. In mixed events, one player must self-define themself as woman and one player must self-define themself as not woman. Lots of discussion on Bridge Winners – click here –>
The ACBL Educational Foundation Board of Trustees has begun searching for its first-ever executive director. "We're looking for a dynamic fundraising professional," says Barbara Heller, the foundation President. "Our continued partnership with ACBL has supported the foundation for years, but it is time to grow and seek contributions from donors to support specific programs and to take us to the next level. To accomplish that, we're looking for someone to partner with the Board in developing and implementing a strategy for growth." Read more on the foundation website –>
Curtis Cheek has been named the 2019 recipient of the Sidney H. Lazard Jr. Sportsmanship award. The Sportsman Award was established by Sidney Lazard in honor of his son, Sidney Jr., who died in 1999 at the age of 41 after a year-long battle with cancer. Administered by the ACBL Educational Foundation, the award is given annually to a top-level player, one who has scored a high-level finish in a major national contest. (Photo Jonathan Steinberg).
Read more on Bridge Winners here –>
Simultaneous Bridge Events – the What and the How. EcatsBridge (and simultaneous pairs) are run by business partners Anna Gudge and Mark Newton and their goal is "promoting real bridge in a virtual world." Alex interviews Anna Gudge and finds out just what Simultaneous Bridge is all about. Read article here –>
World Bridge Federation launches a survey. Who are bridge players? What are their bridge habits? Take part in this large-scale survey and answer the following questions put out by the World Bridge Federation. Click Here –>
The 44th World Bridge Team Championships, including Bermuda Bowl, Venice Cup, D'Orsi Senior Bowl, Mixed National Teams, and the 12th World Transnational Open Teams will be held at the Wuhan International Convention Center, Wuhan, Hubei Province, China from 14-28 September, 2019. Read more here ->
International Bridge Press Association (IBPA) 2018 Awards have been announced. The prizes were awarded at an elaborate ceremony at the Hainan Bridge Festival in Sanya, China. Congratulations to sinners Bob Hamman (IBPA Personality of the Year), Boye Brogeland (Declarer Play of the Year), Dilip Gidwani (Defense of the Year), Wang Wenfei/Shen Qi (Best Bid Deal of th Year), Matt Smith (Junior Deal of the Year), The Language of Bridge Kit Woolsey (IBPA Book of the Year), and Bridge Baron – Stephen Smith & Ron Tacchi (Alan Truscott Memorial Award). You can view the articles and photos here –>
Joe Grue wins ACBL Goren Trophy. He dominated the masterpoint winnings roster at the Honolulu NABC, amassing 422.31 points to win the award, which is given to the player who wins the most masterpoints at the Fall NABC. His closest competition, teammate Martin Fleisher, was 60 points out of the top spot.
The ACBL's Winter NABC in Honolulu November 23 – December 2. You can read the daily bulletins by clicking here –>
---
At 23 years old, Mikael (left) and Ola (right) Rimstedt of Sweden are not just rising stars; they are the reigning world pairs champions, having won the Open World Pairs in Orlando last month. On Friday they entered Bridge Winner's The Well. Got a question for them? Here's your chance to ask them directly!
---
The 2018 Women's Online Bridge Autumn Festival will be held from 12th – 18th November. The prize for the winner will be free entry, with a partner of her choice, to the Women's Pairs event at the European Open Championships to be held in Turkey from 15 – 29 June. Find out more here –>
---
15th WORLD BRIDGE SERIES 21 SEPTEMBER – 6 OCTOBER 2018. The tournament is over but Great Bridge Links  'jump' page will be open permanently. A place to bookmark and use to jump wherever you want to go when following the 2018 World Bridge Series – results, news, blogs and vugraphs. Click here to enjoy!
---
Wbridge5 wins gold, Syrney Bridge takes Silver in the 2018 Word Computer Bridge Championships. Last year's Gold Medalist Wbridge5 bested last year's Silver Medalist Syrney Bridge in the finals of this year's  Championship. Syrney led at the half, but Wbridge5 had a huge 3rd quarter and a strong finish by Synrey fell short as Wbridge5 took home the gold, 150.9 – 132.  Read more here –>
LoveBridge tries to change the world. A tablet system for bridge tournament play was introduced in a test tournament game at the 2018 World Bridge Series by a team from Budapest, Hungary. In this system everyone in the room plays the same hands at the same time with scores appearing immediately after play. All play happens on a tablet. Find out more –>
New Podcasts from John McAllister Conversations with world class players. Hi, my name is John McAllister. I have spent the past six years playing bridge all around the world. My goal is to win a world championship. Doing so requires getting into the minds of the world's best players. I can not think of a better, more fun way to do so, than to interview great bridge players and share their insights in podcast format. Read more here –>
Now you or your friends can LEARN TO PLAY BRIDGE on FunBridge. New introductory module to bridge now makes it possible to learn bridge through the Funbridge app! Thanks to lessons and exercises developed by experts, learning the basics of bridge has never been so easy. And it's FREE! Read more here –>
Shark Bridge Update – Just in time for the World Computer Bridge Championships. Shark Bridge have won or placed well in the championships for the last few years (Gold in 2014) and are once again participating in Orland this fall. Today the folks at EMA bridge announced they have released a major update to Shark Bridge for iOS, Mac OS and Windows in which they have redesigned their online bridge club servers (more stability), portions of the play engine (faster play) and resolved the PayPal connection in the windows app.
Bridge Epic – Judy Kay-Wolff tells us in her blog that "Sometime during the 2018 World Bridge Championship in Orlando, Florida .. a 400 page detailed accounting of  (…) bridge cheating will be released by Australian Avon Wilsmore; published by Hamman and Associates, LLC, and will be available through Baron Barclay ($24.95). It is entitled UNDER THE TABLE (The Case Against the Blue Team). Read more here –>
The World Computer Bridge Championships is the only competition in the world of its type, where bridge playing AI bots are put against each other to find the best bridge software of the bunch. Bridge software has made huge leaps in recent decades, and we're excited to see what the entrants for 2018 have to offer. Read article here –>
The 17th edition of the World Youth Team Championships just completed in Wujiang, China. The event, which takes place on even-numbered years, comprises 4 categories: Under 26, Under 21, The Rona Cup (Girls) and Kids (Under 16). You can visit the official webpage here or read daily bulletins here. You can view a good list of winners on Bridge Winners here –>
The ACBL's summer North American Bridge Championships will take place in Atlanta GA July 26 – August 5. Read all about it and find daily bulletins here –>
Hundreds of students will gather this summer in Atlanta to compete in the annual Youth North American Bridge Championships. From pair events to team events, players 19 and younger will play for fun, trophies and scholarships. August 2-4. Read more here –>
Bridge Clues is Back! After a period of down time, the site which features over 3000 Question and Answer problems written by Mike Lawrence, has relaunched with Phase One including the four free daily hands as well as the beginner series. Now work on phase two, the store and Past Hands, is underway. The new Bridge Clues offers the warmth of a good friend and a little bit of rock and roll as well. Website here –>
$360,000 USD up for grabs in the annual Yeh Bros Cup. Staged by the Beijing Bridge League, the Yeh Bros Cup includes Open Teams, Swiss Plate and Open Pairs. Entries from all World Bridge Federation Zones are on an invitation basis. Patron is Mr. Chen Heh form Taiwan. This year there are 28 teams including 3 from the USA and 4 from China. Can't find an official site yet, but you can view a listing of players here
NEW!! Bridge in A Box™ by Patty Tucker.  Contains playing cards, player workbooks, a table mat, a quick start option and access code for four people to a video tutorial and an app. Learn bridge at your convenience, the way you prefer to learn, and at your own pace in your home. Patty and her project can be found on Kickstarter and she hopes to release the product at the NABC in Atlanta. You can find Patty's website here and her Kickstarter here.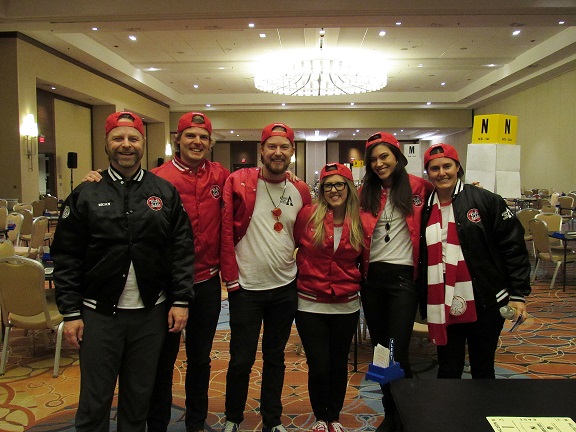 The Kids Table – a forthcoming documentary about four millennials learning and playing bridge. Coach Brian Reynolds, Edd Benda, Paul Stanko, Monique Thomas, Stefanie Woodburn, and coach Samantha MacDouglas are making a documentary about learning bridge in their 20s. Read more here –>
Eric Murray 1928-2018 . ACBL Hall of Fame member and great Canadian player Eric Murray died May 19. He was 90 years old. A Grand Life Master, Murray won 14 NABC titles and countless Canadian championships. An iconic figure in bridge, Murray was a force at the table and also in bridge governance. Read many comments and tributes on Bridge Winners here –>
Bridge Sponsorship Can Help You Succeed – Are you planning a special bridge event? Does your little bridge club need extra support. Does your bridge team want to enter a competition that will require a bit of sponsorship help? Sponsorships can be the key to success for a program, team or bridge club. We've gathered 6 Tips  to help you get started. Read more here –>
ACBL Chief Executive Dismissed – Bahar Gidwani, chief executive officer of the ACBL, has been relieved of his duties according to ACBL President Jay Whipple. Read more here ->
The search for a new CEO for the ACBL – A special committee has been appointed by ACBL President Jay Whipple to fill the organization's top management position. Read more here –>
Have you heard about BridgeTab?  (by Jannersten Forlag) is a new approach to scoring bridge tournaments using a standard tablet device. Intuitive interface makes it easy to use for players and TD alike. Read more here –> | Click here to learn about using BridgeTab on an Amazon Fire Tablet by Matthew Kidd.
ACBL Top Players Rally Over Cheating Fears. Although well-publicized disciplinary hearings in North America and Europe have resulted in the permanent banning of several top pairs convicted of collusive cheating, some of the accused have turned to civil courts to have their sentences overturned or reduced – and they're turning up at competitions. Read more here ->
ACBL to start selling online entries. The upcoming Summer NABC in Atlanta will be the last NABC at which Bridge Winners will be providing online entries. Under the leadership of its new CEO, Bahar Gidwani, the ACBL has begun updating its entry-selling processes. At the last two NABCs and at regionals around the country the ACBL has implemented a system to accept credit cards for entry purchase. Starting in the Fall the ACBL plans to continue its expansion and sell entries online. Read more here ->
New event at the World Bridge Teams Championships. Starting 2019 a Mixed Teams Championship will be added alongside the Open (Bermuda Bowl), Wome n's (Venice Cup) and Seniors (d'Orsi Trophy) at the World Bridge Teams Championships.The Zonal Conferences will hold qualifying Championships/Trials as they do for the other categories. Read more here ->
The new ACBL Convention Charts – The ACBL Board of Directors approved  New Convention Charts at the NABCs in Philadelphia. Effective the first day of the 2018 Fall Nationals in Honolulu, there will be several articles in the ACBL Bulletin introducing the new charts. You can view them here.
The hour of AI has arrived! A non-human is inducted into the ACBL Hall of Fame for the first time in history. Read more here ->
The Best Bridge Writer – Discussion on Bridge Winners this week offers a fantastic list of great bridge authors, their books, and what makes them great. Who would be your pick for the best Bridge Writer?
The World Bridge Federation opens Robot Bridge Tournaments with WBF Masterpoint Awards Click here.
---
New Podcasts from John McAllister
Conversations with world class players. Hi, my name is John McAllister. I have spent the past six years playing bridge all around the world. My goal is to win a world championship. Doing so requires getting into the minds of the world's best players. I can not think of a better, more fun way to do so, than to interview great bridge players and share their insights in podcast format.
http://thesettingtrick.libsyn.com/
---
Bridge Magazine closes – and opens
BRIDGE Magazine (U.K.), has ceased publication with the December 2017 issue. BRIDGE was the world's oldest bridge magazine, having begun publication in 1926. In 2011, the magazine went from a printed to an online format. The magazine's editor, Mark Horton, and its jack-of-all-trades, Ron Tacchi, have begun publishing "A NEW BRIDGE MAGAZINE" online. The new magazine will be offered free of charge. To receive notification each time the new magazine is published, go to
www.newbridgemag.com
and register
(Source: IBPA Bulletin, Jan 2018
---
Minibridge is now available online.
 Minibridge is like a typical game but without the auction. Because bidding is sometimes one of the more stressful parts of bridge, Minibridge is a fast, easy way to jump in and start playing. Powered by Bridge Base Online, the online Minibridge allows players to pick the trump suit and predict the number of tricks they think they can take. Then your students play the hand as usual. While you're introducing your students to the game, show them how they can practice online with Minibridge. They can access it at
acbl.org/minibridge 
(Source: IBPA Bulletin, Jan 2018)