2022 Bridge Tournaments
2022 World Bridge Series. 19 Aug – 3 Sept, Wroclaw, Poland.
GBL has set up our 'jump page' and we'll be adding links, galleries and information as we gather them. Click on link or find it and other jump pages in the margin at left.
This page was updated June 15, 2022 – The World Bridge Calendar is back! Many thanks to John Carruthers and the International Bridge Press Association for this comprehensive list. As well, you can find bridge tournaments listed on Bridge Scanner.
Do you have a Bridge Tournament you want on this list? Use the form at the bottom of our page to submit your information. Listings are free! This page is one of Great Bridge Link's top 5 pages.
Apr 15-18 Easter Festival London, England www.ebu.co.uk
Apr 15-18 South Perth Easter Congress Como, Australia www.abf.com.au
Apr 19-24 Novi Sad Bridge Festival Novi Sad, Serbia www.facebook.com/novisadbridge
Apr 20-21 Baltic Cup Tallinn, Estonia aarne.rummel@err.ee
Apr 21-23 Mutton Cup Madrid, Spain www.mutton-cup.com
Apr 22-23 53rd Tallinn Bridge Festival Tallinn, Estonia festival@bridge.ee
Apr 22-24 Iberian Bridge Festival Lisbon, Portugal www.centrobridge.pt
Apr 23-25 Wellington Bridge Congress Wellington, NZ www.nzbridge.co.nz
Apr 28-May 1 Slavonice Cup Slavonice, Czech Republic www.czechbridge.cz
Apr 28-May 2 Australian Autumn Nationals Wayville, Australia (Adelaide) www.abf.com.au
Apr 29-May 1 Carlow Congress Carlow, Ireland www.cbai.com
Apr 29-May 3 Schapiro Spring Fours Warwick, U.K. www.ebu.co.uk
Apr 29-May 3 61st Poznan Meeting Poznan, Poland www.pzbs.pl
Apr 30-May 1 31st Lake Geneva Tournament Vevey, Switzerland www.fsbridge.ch
 May 12-15 Shree Cement Bridge Championship New Town Kolkata, India bridgewebs.com/wbba
May 12-15 13th Assos Bridge & Culture Festival Canakkale, Turkey neseedirim@msn.com
May 13-15  Grand Prix of Kosice Kosice, Slovakia bridgeclub.sk
May 14-22 22nd Deutsches Bridgefestival Wyk-auf-Föhr, Germany bridge-verband.de
May 17-22 34th Cairo Bridge Festival Cairo, Egypt egyptbridge.org
May 19-22 Uzlina Bridge Cup Murighiol-Uzlina, Romania playbridgeindelta.com
May 21-28 70th South American Bridge Festival Cali, Colombia csbnews.org/festival-cali
May 21-29 Turkey Summer Championships Antalya, Turkey tbricfed.org.tr
May 24-Jun 1 Festival Juan-les-Pins Antibes, France festivalsdusoleil.com
May 25-29 International Bridge Festival Budapest, Hungary ibbf.hu
May 26-30 Nordic Teams Championship Kuopio, Finland facebook.com/bridgeliitto
May 26-31 Marit Sveas International Lillehammer, Norway msibt.org
May 30-Jun 3 WBT Masters Lillehammer, Norway wbtresults.org
Jun 2-6 53rd Grazer Bridgetagge Graz, Austria bridgegraz.at
Jun 3-6 Festival de Bridge de Vichy Vichy, France bridgeauverne. fr
Jun 4-9 Bridge en Corse Porto Vacchio, Corsica bridgeclub-portovecchio.com
Jun 9-13 Victor Champion Cup Melbourne, Australia abf.com.au
 Jun 12-22 55th Euro National Team Champs. Funchal, Madeira, Portugal eurobridge.org
Jun 14-19 All-African SABF Congress Online sabf.co.za
Jun 16-19 Josefi Tournament Velden, Austria bridgeaustria.at
Jun 17-23 New Aegli Tournament Poros, Greece hellasbridge.org
Jun 20-26 33rd Tunisian Bridge Festival Hammamet,Tunisia bridgewebs.com/bridgetunisie
Jun 24-Jul 3 Slawa Bridge Congress Slawa, Poland pzbs.pl
Jun 24-Jul 3 40th International Bridge Festival Albena, Bulgaria bridgealbena.org
Jul 1-12 International Bridge Festival Biarritz, France festival-bridge-biarritz.com
Jul 2-14 Australian National Championships Adelaide, Australia abf.com.au
Jul 6-10 Lozenets Bridge Festival Lozenets, Bulgaria bridge.bg
Jul 7-14 54th Tel-Aviv Bridge Festival Tel-Aviv, Israel ibf-festival.org
Jul 8-17 Dansk Bridgefestival Svendborg, Denmark bridgefestival.dk
Jul 13-17 Kammergut Bridge Days Gmunden, Austria bridgeaustria.at
Jul 14-17 Yarimada Bridge Festival Bodrum,Turkey tbricfed.org.tr
Jul 14-24 ACBL Summer NABC Providence, RI acbl.org
Jul 15-23 Baltic Congress Sopot, Poland pzbs.pl
Jul 15-24 Hangon BridgeViikko Hanko, Finland bridgefinland.fi
Jul 16-20 Falkenberg Bridge Week Falkenberg, Sweden svenskbridge.se
Jul 19-26 European Youth Team Championships Veldhoven, Netherlands eurobridge.org
Jul 21-24 Scarborough Summer Congress Scarborough, England ebu.co.uk
Jul 21-29 Festival Mondiale Deauville, France mondiale-bridge-deauville.com
Jul 25-31 Viru Bridge Vosu, Estonia bridge.ee
Jul 27-Aug 7 Grand Prix of Warsaw Warsaw, Poland pzbs.pl
Jul 28-30 EuroGames Nijmegen, Netherlands eurogames20232.eu
Jul 29-Aug 7 Swedish Bridge Festival Örebro, Sweden svenskbridge.se
Jul 30-Aug 4 Chairman's Cup Örebro, Sweden svenskbridge.se
Aug 5-13 Norwegian Bridge Festival Lillehammer, Norway bridgefestival.no
Aug 7-13 Wachauer Bridge Week Mautern, Austria bridgeaustria.at
Aug 7-14 World Youth Transnational Champs Salsomaggiore Terme, Italy wordbridge.org
Aug 9-14 Coffs Coast Gold Congress Coffs Harbour, Australia coffsbridge.com.au
Aug 10-14 16th Riga Invites Riga, Latvia rigainvites.lv
Aug 10-14 Varna Bridge Festival Varna, Bulgaria bridge.bg
Aug 11-14 Summer Meeting Eastbourne, U.K. ebu.co.uk
Aug 12-21 Festival Internationale de Bridge La Baule, France festivalbridgelabaule.com
Aug 16-25 Buzios Bridge Rio de Janeiro, Brazil frankiebridge@hotmail.com
Aug 19-Sep 3 World Bridge Series Wroclaw, Poland worldbridge.org GBL Jump Page
Aug 20-28 Erasmus Bridge Week Rotterdam, Netherlands denksportcentrumrotterdam.nl
Aug 20-28 Festival La Grande Motte La Grande-Motte, France festival-bridge-lagrandemotte.fr
Aug 22-Sep 3 International Bridge Festival Mamaia, Romania frbridge.ro
Aug 23-28 65th International Festival du Touquet Le Touquet, France letouquet-festivaldebridge.com
Aug 24-28 Territory Gold Bridge Festival Darwin, Australia ntba.com.au
Sep 2-4 Northern Lights Bridge Festival Siglufjördur, Iceland vikingbridge.is
Sep 2-4 International Women's Tournament Augsberg, Germany bridgezentrum-augsberg.de
Sep 9-21 60th International Festival Pula, Croatia pulabridgefestival.com
Sep 12-17 FISU World University Championships Antwerp, Belgium fisu.net/sport-events/fisu-calendar
Sep 12-18 Guernsey Bridge Congress Guernsey, Channel Is. ebu.co.uk
Sep 12-18 Abano Bridge Festival Abano Terme, Italy termebridgefestival.com
Sep 14-23 Asian Games Hangzhou, China hanzhou2022.cn/En
Sep 23-25 Vilnius Cup Vilnius, Lithuania bridgescanner.com
Sep 28-Oct 3 39th Jordan International Festival Amman, Jordan bridgewebs.com/jbf/jordan
Oct 1-8 NZB National Congress Mt. Maunganui, NZ nzbridge.co.nz
Oct 5-11 Turkey Overseas Congress Side,Turkey www.ebu.co.uk
Oct 11-16 18th HCL Bridge Championships New Delhi, India hcl-bridge.com
Oct 19-28 Australian Spring Nationals Sydney, Australia abf.com.au
Oct 28-30 KCBL Open Teams Seoul, South Korea kcbl.org
Nov 1-3 European Small Fed's Championship Larnaca, Cyprus eurobridge.org
Nov 7-13 Madeira International Open Funchal, Madeira, Portugal bridge-madeira.com
Nov 10-20 Red Sea International Festival Eilat, Israel bridgeredsea.com
Nov 24-Dec 4 ACBL Fall NABC Phoenix, AZ acbl.org
Dec 2-10 Festival de Mar del Plata Mar del Plata, Argentina aba.org.ar
Dec 27-30 Year End Congress London, England ebu.co.uk
What's the latest on Face 2 Face tournament and club play in North America? Here's a cool new link from MedCityBridge.com. Many thanks to Matt Baylow for submitting these 'great' bridge links.  F2F ACBL/VACB Tournaments and News here → | F2F ACBL/VACB Club Data Here →
---
ONLINE TOURNAMENTS
Below you'll find links to online bridge tournament venues, platforms and events.
PLAY BRIDGE ONLINE  | BRIDGE SOFTWARE & APPS | Watch Bridge on TWITCH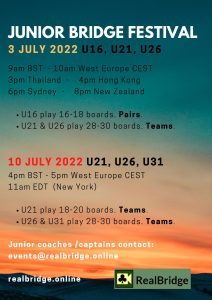 JUNIOR BRIDGE FESTIVAL
3rd July and 10th July  – both Sundays. Click image to enlarge. Website realbridge.online
Notice that the start time for the 3rd July is suitable for Europe to New Zealand (and any in between). The 10 July date is more suitable for Turkey to Chile and most of USA.
Bridge Winners runs Club Games on Real Bridge
– Weekly. Single Session. 2 Hours. $3 per person. Juniors play free.
Read about it here – >
World Bridge Tour. Fairness. Adaptation. Integrity. Respect. Founded by Thomas Charlsen and Boye Brogeland. World Bridge Tour (WBT) consists of online top level team tournaments organised by OCBL, ALT, E-Open and World Bridge Holding. Challengers Cup (CC) consists of online team tournaments organised by World Bridge Holding https://www.worldbridgetour.org/. | Calendar of events here
BridgeZone's Swiss Pairs event, The Gauntlet, is open for registration. – It is an 8-round event of one match per week, 20 boards against your opponent for that week, scored by IMPs converted to VPs Signing up and playing requires creating a login on our website, www.bridgezone.org   Play will begin on or around November 1.  Complete rules are on the website.
Bridge Zone Joust is a monthly single elimination tournament with a progressive consolation. Starts on the 1sts 6th of each month and first round matches have 10 days to complete. Each round is a minimum of 28 board match. (longer in the semifinals and finals)
Reynolds Team Matches – TD Tom Reynolds has been organising monthly knockout tournaments and quarterly double elimination knockouts since April. Information can be found at http://www.reynoldsteammatches.com
Alt Invitationals – Invitational tournaments, usually lasting five to seven days, have been organised by bid72 and netbridge.online.To date, there have been Alt Invitationals (open team tournaments),Alt Mixed events (all comprising eight teams), Alt Majors (32 teams) and Alt BAMs. Information can be found at https://bid72/ events. Each event has a daily bulletin. Email info@netbridge.online for an invitation (Jan van den Hoek).
OCBL – The Online Contract Bridge League organises Open and Mixed events. Details can be found at https://ocbl.org.  OCBL also produces a daily journal.
ACT Bridge & Bridgehouse – Arranges online team events with daily bulletins. Information can be found at https://bridgehouse.club
Monthly Invitational Teams – Organized by Christina Lund Madsen (clm@christina-bridge.com) and Denis Dobrin. See https://mit.bridgeresults.org. They also organisz open mixed events.
All of the online tournaments named above are on BBO (https://www.bridgebase.com/) or RealBridge (https://realbridge.online). Other useful sites are https://bridgescanner.com and https://bridgewinners.com
---
Platform Events & Updates
ALT Events
ALT Invitational tournaments, usually lasting five-seven days, have been organised since April by bid72 and netbridge.online.
Alt Bridge Website for Information
OCBL Events 2021
The Online Contract Bridge League.  https://ocbl.org