Why is Bridge Awesome?  Multiple Australian National Champion and representative Peter Hollands shares why he thinks bridge is awesome. YouTube -.
BAMSA (Bridge A Mind Sport for All) is an academic, research-led project that explores the social world of bridge and the benefits of mindsport. Registration is now open for the BAMSA Conference: Bridging Academia, Policy and Practice.  (online 28 June to 1 July 2021). Click here to find out more and register ->
DIRTY TRICKS –  'Dirty Tricks' Unveiled by Yes Studios. Yes Studios. Its world premiere was at Hot Docs but if you missed it there you can watch it at upcoming festivals. Find out more ->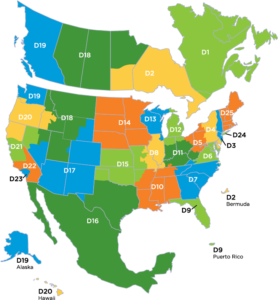 New Regions in the ACBL. The ACBL has reorganized their government, clumping their 25 Districts together into 13 Regions, and reducing the size of their Board of Governors. Read more on the ACBL Website here – >
Mike Lawrence, world renown bridge player and teacher, is now offering webinars through Larry Cohen's Bridge Made Simple Webinars. This month Mike is teaching conventions. The 1 hour, live webinars are only $15 each, include 30 minute Q&A afterwards as well as links to Mike's extensive lecture notes. Learn more here ->
Ohhhhh Canada! Were Canada's Premier National Championships sidelined by cheating? Read Ohh Canada! currently trending on Bridge Winners ->
CANCELLED: 2021 World Youth Teams Championship and World Teams Championship, both planned to be held in Salsomaggiore Terme, Italy. Work is being undertaken with the aim of holding the World Teams Championship (Bermuda Bowl, Venice Cup, d'Orsi Senior Trophy and Wuhan Trophy) in 2022 between the end of February and beginning of March. However, the World Youth Teams Championship will be re-scheduled to 2023. Read more here ->
Henrik Hansson has been nominated for a major photography award following his depiction of Bridge during lockdown in a series of 8 evocative photographs. More information at http://worldbridge.org or go directly to the series of photographs here ->.  
Great film showing the best & worst sides of #mindsport bridge. Watch the film Aces and Knaves then join Q&A with Zia & filmmaker Jackie Paré  23 May, 7.30pm (BST)  Click here ->
FUN VIDEOS New Tricks bridge club has a series of fun videos matching 8 bridge experts in individual play. Check out their YouTube channel here ->
Bridge and Cheating in the New World. Online play has been wholeheartedly embraced and welcomed and bridge is suddenly way more accessible. However, so is cheating. Read a recap here ->
NEW BRIDGE LINKS – have you visited our New Links page recently? Lots of new bridge sites coming online over the past few months,  Check it out here ->
♥ News Archive Here