The Bridge and the Famous
By Alex J Coyne © 2016 Great Bridge Links
Links last updated Feb 2018
If you've become somewhat obsessed with the game of bridge, a deep breath and a card shuffle is in order: It's okay, you're not alone! Check out some of these famous (fictional and real-life) famous bridge players: Who'd you bet on?
Billionaires Warren Buffet and Bill Gates have been known to enjoy sitting down to play together, and both are honorary members of the American Contract Bridge League (ACBL). Their multinational corporation, Microsoft, is a partner of one of the world's largest online bridge clubs, Bridge Base Online.
Gandhi made no secret of the fact that he enjoyed a game of Bridge in his spare time, and he used the game to explain the difference between Karma (the hand you are dealt) and Dharma (what you do with it).
Dwight Eisenhower, 34th president of the United States, was known as an excellent bridge player.
Omar Sharif was a famous Egyptian actor (Lawrence of Arabia, Doctor Zhivago, and Funny Girl) who died in 2015 from a heart attack. Before his death, he was a keen player and ranked amongst the world's top 50 players. When he wasn't playing bridge, he enjoyed toying with the odds by jumping into betting on horse races.
Sharif was well known for the Omar Sharif Bridge Circus which performed exhibition matches before such spectators as the shah of Iran. Asked once why he spent so much time at bridge when he could have been making movies, he answered, "The real question is why I spend so much time making movies when I could be playing bridge."
Omar lent his name to several books on bridge playing and a video game (originally released on MS-DOS) called Omar Sharif on Bridge. It's still available on both the Microsoft Store  and the App Store (not currently available) .
Fictional players?!
Who said you had to be a real person to enjoy a game of bridge?
James Bond is known for his talent at the table, beating Sir Hugo Drax in a game of bridge in both the film and book versions of Moonraker.
Sherlock Holmes sees several mentions of Bridge. During one, he carefully explains the rules of Bridge to his partner, Watson. Another, more elaborate mention happens in The Adventures of the Empty House where the murder victim Honorable Ronald Adair is known for being a regular whist player. In fact, it's an integral part of the story's plot – but we'll leave that to the reader's imagination…
Even mystery writer Agatha Christie couldn't help it: Cards on the Table (1936) features a pair of eight – half of the players suspects and half on the detecting side (consisting of Poirot, Race, Battle and Oliver) – playing a game of after-dinner bridge.
Oh, and you can add Snoopy and Woodstock to that list, too – who knew?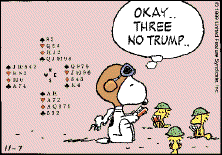 Snatching the bookies best enhanced odds for all sports betting events around the globe is a fun way for people seeking the thrill and that extra pocket cash to spoil yourself or purchase that holiday gift for your favourite partner!