Card Ads Everywhere! 
By Alex J. Coyne (c) Great Bridge Links
Advertising is the driving force behind consumerism – it's what makes us go out and buy things, or stay in and order them from the internet.  They're meant to catch your attention and inform you – and, sometimes, they happen to be both hilarious and featuring a deck of playing cards or a card game. Check out some of these…
Maxwell House
Maxwell House coffees were first introduced way back in 1892; it was, at least until the 80's, the top-selling coffee in America. Hell, blues singer Mississippi John Hurt even mentions it in his song Coffee Blues.
They realized the power of advertising campaigns early on with print and radio ads featuring celebrities of the time; they also happened to have a fondness for bridge. Check out their ads that promote bridge here:
Making Coffee for the Bridge Club on YouTube
Partnership Harmony Ad on YouTube
Swank Poker
Not all ads are received well by members of the public – or the censorship board. In 2009, a print ad by Swank Poker quickly got banned after it wasn't too clear whether they were advertising their poker games or, well, sex. (We know it sells, but there's a limit!)  The ad stated that Swank Poker is the best place to go for "poker action" and "the finest erotic entertainment that the civilized world has to offer".  See the original ad and article over at The Guardian.
PokerStars TV Ads and Promotions Collection
PokerStars is well-known in card playing circles, and many of their TV ads have featured poker celebrities starring in them. You can check out a collection of their ads and promotional videos for TV at the official PokerStars website.
Spectrum: Best Ads on TV
Spectrum, a US-based communications and cable company, decided to go with a game of poker in their ad; who's playing? A werewolf, a mad scientists, a mummy and, because we'd guess it ups the stakes, death himself. Check it out at Best Ads on TV, another great resource if you love weird or funny ads!
KFC Poker Night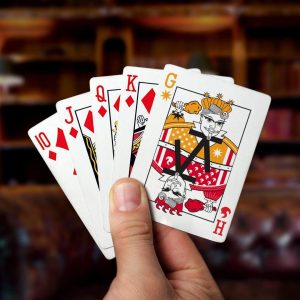 KFC, apparently, has been noted by guitarist Eric Clapton as part of his pre-playing routine secret; the oils, it being said, helping his fingers glide across the strings. (Ew, Eric.) We're not sure whether he sure does this – hopefully and surely not. Card players will know what oily hands would do to cards.
Naturally, that's why KFC opted to use this for their poker ad. KFC, the ad says, is perfect and finger licking good – just don't dirty the cards! Cheers. (As far as we know, this ad was aired in South Africa.) Hey, maybe someone up there reads Great Bridge Links…
Bicycle Cards: Vintage Ads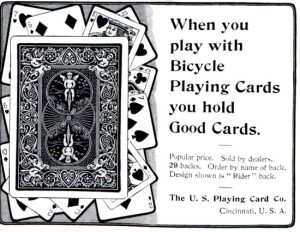 Check out some of these vintage ads for Bicycle-brand playing cards. Do any readers own prints or original ads?
1 http://blog.magicshop.co.uk/wp-content/uploads/2015/06/bicycle-cards-uk.jpg
2 http://www.saturdayeveningpost.com/wp-content/uploads/satevepost/2017-ma-pg98-vintage-ad.jpg