Snoopy Played Bridge For Peanuts
When it came to his internationally-syndicated comic strip Peanuts, Charles M. Schulz was known to incorporate his real life experiences into the characters he portrayed and the panels he produced.
A recreational hockey player, his fascination with how fans who sit during intermission of a game and draw entertainment from the ice-resurfacing machine as it prepared the rink for the next period of play led to Schulz's decision to incorporate the Zamboni into several strips over the years.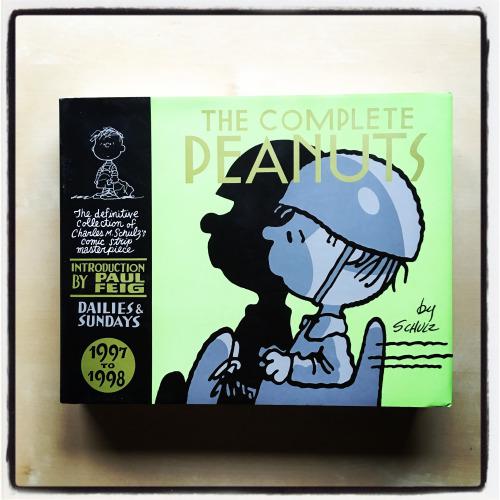 "Charles M. Schulz: The Complete Peanuts – 1997 to 1998 – Schulz…" by ukpix is licensed under CC BY 2.0
Whenever one of these quirky ideas popped into Schulz's fertile and creative mind, if you'd been a betting person, you might've wagered your Bovada welcome bonus that Snoopy, the quirkiest character in the Peanuts comics, would be front and center in terms of bringing the notion to the masses.
Over the years, Snoopy, Charlie Brown's pet beagle, has won a Christmas lights contest by decorating his doghouse in festive holiday fashion. He competed against his bird pal Woodstock in hockey, always playing a road game on Woodstock's frozen-over bird bath. And perhaps most famously of all, Snoopy sat atop his doghouse as it turned into a Sopwith Camel and the World War I flying ace entered into aerial battles with the notorious Red Baron.
It was during this latter of Snoopy's fantasies that Schulz opted to bring another one of his favorite passions to Peanuts. Charles M. Schulz was an avid bridge player. And so, as it turned out, would be World War I flying ace Snoopy.
Building A Bridge For Peanuts
In May of 1997, Schulz opted to incorporate a bridge game into four Peanuts comic strips in succession, all involving Snoopy's Great War fantasies.
In the opening frame Snoopy, adorned in his WWI flying gear, is seated on his doghouse, which is decorated with suit symbols. By the second frame, he is involved in a game of bridge with Woodstock and two of his bird buddies, all three of the little fellow soldiers wearing their battle helmets. By the third frame of the strip, Snoopy is correctly interpreting that his partner's mumbled bid was in fact a raise to three no-trump.
A spade is led. Each player's hand is depicted in the comic strip above their respective heads. It can be clearly seen that South holds eight tricks. If Snoopy opts to attempt to set up a ninth trick in clubs, it's a safe bet that he is most likely to fail. This move would enable the defenders to establish spades and be positioned to make a minimum of five tricks within the black suits.
But just when the card playing is growing intense, the war calls. Snoopy and the other pilots are ordered to report to their airplanes.
"Sorry, men," Snoopy says as he departs. "We'll finish that hand when I return."
Dodging a barrage of attacks from enemy planes and anti-aircraft guns, Snoopy completes his mission and returns to base. Upon his arrival, he heads to the quarters of his squadron leader.
"Peanuts Charlie Brown and Linus at Charles M Schulz Airport Sonoma CA" by jay galvin is licensed under CC BY 2.0
"Flying Ace Snoopy reporting, mon capitaine," Snoopy says, saluting his superior officer.
From the look on Snoopy's face, it's apparent that the captain is not impressed by how their mission went.
"Yes, sir. Everything went bad," Snoopy says. "Perhaps the captain could tell me what I did wrong."
The next frame sees Snoopy seated back amidst his bridge game with partner Woodstock and their two feathered opponents. Snoopy then reveals to the others the captain's report about how he failed in his mission.
"He said I should have led a low heart to the queen," Snoopy says.
Snoopy Honored
Later the year, and much to Schulz's delight, his card-playing characters were recognized for their role in shining a light on bridge and bringing further awareness of the card game to the masses.
Snoopy was made an Honorary Life Master by the American Contract Bridge League. He remains the only player to have ever been so honored.
Schulz's desire to share his passion for bridge was not left solely to be revealed via his Peanuts comic strips. The cartoonist also published a book of humorous bridge cartoons entitled Bridge Mix. In this work, he makes light of the game and its culture. He lampoons the very human foibles of those who play it in his usual understated but pointed sense of humor.