Dirty Tricks (Streaming Dirt Cheap)
By Alex J. Coyne © Great Bridge Links
May, 2021
Dirty Tricks is a new contract bridge movie which premièred at The Hot Docs International Film Festival (30 April to 9 May, 2021). If you haven't seen it yet, here's where to find all the most essential details about the new bridge film– including where to stream Dirty Tricks online.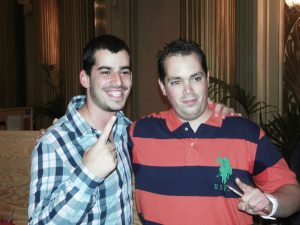 Dirty Tricks explores the story of Lotan Fisher, a famous bridge champion found guilty of cheating the game with partner Ron Schwartz in 2016. (Photo left: Lotan Fisher and Ron Schwartz. Source: bridgecheaters.com)
The film comes at a difficult time for competitive sports, with cheating in the spotlight. Bridge tournaments played for high-stakes and broad acclaim has been no exception. Players have been calling for a zero tolerance stance within bridge, echoed by organizations like the EBL and ACBL.
Fisher and Schwartz are both on the ACBL Currently-Under-Discipline List for their transgressions. For now, their cheating scandal remains one of the most publicized to occur at a tournament table.
http://web2.acbl.org/discipline/CurrentlyUnderDisciplineList.pdf
While many sports-focused movies revolve around the rise of a prodigy, Dirty Tricks focuses on their downfall.
If you've been around the website BridgeCheaters.com, then you might know some of the story already. Player Boye Brogeland launched the initial investigation into their alleged cheating, and findings were posted online for the world to judge.
Dirty Tricks doesn't showcase the story in a typical documentary format, but follows the whole tale by taking it from Fisher's table-abilities as younger boy.
From the creators of Netflix's Shtisel, Dirty Tricks is sure to show a whole next generation of bridge players why cheating is a bad idea.
I wanna watch the movie!
Doc Edge Festival 2021 will be in theatres (Auckland and Wellington) and online nationwide from 3 June until 11 July. Full programme release and tickets on sale, Tuesday 27 April. https://docedge.nz​
Hot Docs Festival 2021 – No Long Available.
We'll pop back in and post more venues as they come up!
About The Filmmaker
Daniel Sivan is the face behind the film, released by Yes Studios.
Sivan has a particularly rich history, and a long affinity for languages. During his earlier days, he served as a coding instructor for the Israeli Defense Forces.
In addition to being a well-published academic author, he is head of the Department of Hebrew Language at the Ben-Gurion University of the Negev.
Sivan's other passion includes music, also having been part of a Jazz band (and the presenter of a radio show). Just as a guess, he might also know a thing or two about bridge.
Press For Dirty Tricks
Need to know some more about Dirty Tricks before seeing the movie? Well, here's where to find some of the press releases, media coverage, and essential review links for the movie.
The Guardian
https://www.theguardian.com/sport/2021/may/05/lotan-fisher-bridge-cheating-scandal-2015-documentary

The Internet Movie Database
https://www.imdb.com/title/tt14585862/
Rotten Tomatoes
https://www.rottentomatoes.com/m/dirty_tricks_2021

Hollywood Reporter
https://www.hollywoodreporter.com/movies/movie-reviews/dirty-tricks-film-review-hot-docs-2021-4176233/