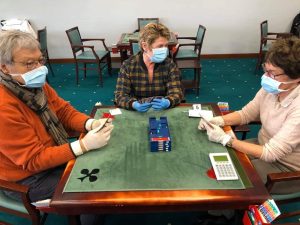 As the world hunkers down we send prayers to those battling the virus, gratitude to people on the frontlines, and encouragements to those of us in isolation. See you online!
The Show Must Go On. Eight world class teams (Lavazza, Spector, Street, Blass, Upmark, Tulin, Moss and Meltzer) to join an online tournament under the name Columbus Alt.  Daily Bulletins here.
Free Magazines. Publishers are offering their magazines free this month to help us all cope with the lockdown. We'll start listing links here:   Better Bridge Magazine (Audrey Grant) / BeBridge (Le Bridgeur) / Bridge Canada (CBF)
ACBL's Online Learning Opportunities – share with your family! From the ACBL Click here
Socially Isolating? Enjoy this FREE Digital Care Package from The Bridge Shop with books, tips, games and more. Click here ->
GBL's Page of Updates from various organizations and events, tournament cancellations, club closures and more.
Quarantine Report – Bridge Players Around the World in Quarantine.