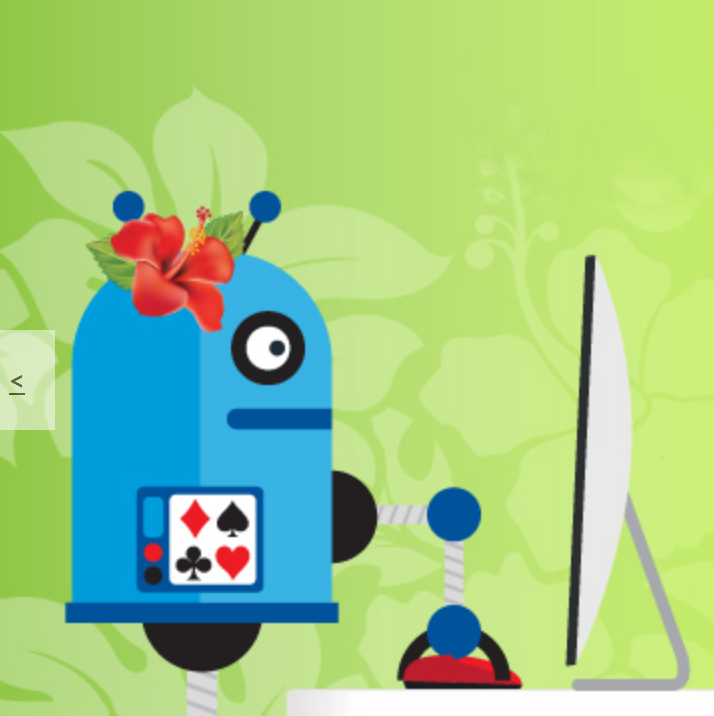 Micro Bridge (by Tomio and Yumiko Uchida) won the 2019 World Computer Bridge Championships. Micro Bridge unseated 3X Gold Medalist Wbridge5 in the semi-finals and then went on to defeat Synrey Bridge in the Finals. Micro Bridge, a Japanese product that runs only on Windows, was a 5 time runner up. The annual event attracts bridge-bots from developers all over the world, with this year's bridge-bot developers from Japan (Micro Bridge), China (Synrey Bridge), France (Wbridge5), Germany (Q-Plus Bridge), The Netherlands (RoboBridge), India (TCS BridgeBot) and the USA (Meadowlark Bridge). For all the results of this year's event and the 23-year history  visit the Championship Website here >>
New website – Computer Bridge by Björn Hjalmarsson. This is a cool new site that focusses on computerized bridge – the software, the robots, the online places to play. Hover over the menu in order to find the good stuff.
---
New Tricks Bridge offers in-depth tutorials, and the New Tricks Tournament Series, featuring eight of the world's best bridge players, battling it out for individual glory. This exciting new website and program is providing a new source for online bridge resources for beginners and experienced players – in video format. We've interviewed one of the founders Sue Johnson – read article here ->
---
The WBF has announced the first ever World Online Championship (WOC) beginning in 2020. Players will purchase tournament entries in batches to play on BBO, FunBridge or Synrey (CBO) against robots. Player's best results count toward qualification for the WOC Final next fall. Read all about it here –>
Great World Bridge Day – to launch the event there is to be a Great World Bridge Day on Thursday 12th December as a trial for YOU to play in – two daylong tournaments (one IMPs one MPs) FREE OF CHARGE on the Funbridge Site … with prizes as well!
---
Millions of Americans play bridge and millions more want to learn. About 15 million Americans age 45 and over know how to play bridge and among those who don't know how to play, almost one out of five said they are interested in learning – a whopping 11 million people according to an article on the ACBL Education Foundations's blog
---
The 44th World Bridge Team Championships, 14-28 September, 2019. Bermuda Bowl, Venice Cup, D'Orsi Senior Bowl, Mixed National Teams, and the 12th World Transnational Open Teams. Wuhan International Convention Center, Wuhan, Hubei Province, China. Great Bridge Links is gathering all the links on their World Bridge Championship Jump Page here ->
---
The 2019 Michael Seamon Junior United States Bridge Championships (MSJUSBC) will be held December 27-30/31, 2019, at the Hyatt Regency in Atlanta. Players will compete in four categories: 1) open under 16 years old (U16; born in 2005 or later; 2) open U21 (born 2000 or later); 3) open U26 (born 1995 or later); and 4) women U26 (Rona Cup; born 1995 or later).  Read more here –>
---