SCORING SOFTWARE
ACBLscore® is software used by clubs to score duplicate bridge and report results to the ACBL. ACBLscore® will handle almost any variation of movement, including individual. It can rank a stratified game with up to three strata, and can score by matchpoints, IMPs or Swiss Teams. It supports a database of players so that it will compute handicaps, print mailing labels, etc. On the web page you'll find software specifications and downloads, as well as special instructions to submit a club report, update your club database, report special games, and post your game results on the Internet. Click here for ACBLscore information and downloads
BridgeTab (by Jannersten Forlag) is a new approach to electronic scoring based on the latest technology. Intuitive interface makes it easy to use for players and TD alike. NO special hardware is needed. You can convert inexpensive standard tablets to an easy to use BridgeTabs with unlimited possibilities within seconds. Visit bridgetab.com for information
PairsScorer – a bridge scoring program that is currently used by the English, Scottish and Welsh Bridge Unions as the scoring software for most of their main tournaments. Windows and Vista. Click here
Personal Scorer – Sky Bridge Club offers a web-based bridge scorer that makes scoring a bridge hand easy! Use Bridge Scorer calculator to check your scores.
BRIDGE SCORING APPS
Bridge Scorer is an application that will allow you to quickly and easily allow you to score any individual contract bridge game.With the new Hand Creator you can create and share bridge hands with friends via SMS, facebook, e-mail or other sharing app installed on your Android device. Find out more here
Bridge Score Calculator. Using your Android phone or tablet, the Bridge Score Calculator displays any duplicate score possible. Simply Swipe and Tap your way to the contract and result desired. Find out more here
BRIAN: Duplicate Scoring/Reporting Ap. BriAn is an electronic scoring system for the game of contract bridge. Using Android smartphones and iPhones, BriAn can support duplicates, tournaments and café bridge. BriAn can also function as a personal scoresheet for a tournament, or as a record for social game of rubber or Chicago bridge.
The Bridge Companion – An application for Windows Phone 7 that replaces the bridge score sheet, manages games played, and also tracks Masterpoints. If you would like more details (video, screenshots and how to download the application) or for any special requests, please visit my website, or reply to this email.
SCORING DEVICES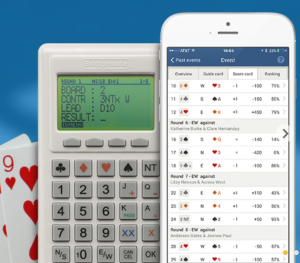 BridgeMate – Bridgemate is world's most popular wireless scoring system for bridge clubs and tournaments. Its user-friendliness, functionality and reliability are unrivalled and lifts any club to a higher level.It is not all about scoring. Guiding players through the game, providing instant feedback of results, live rankings, game summaries and recording of hand records are just a few of the many features in the Bridgemate II. Click here to read more at bridgemate.com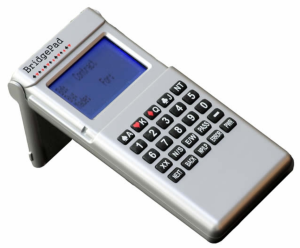 The BridgePad™ scoring system, developed by a lifelong Duplicate Bridge player, is a sophisticated, yet easy to use Contract Bridge Scoring System for eliminating the distracting and time-consuming tasks of the traditional paper-based scoring system. Paper recording and manual entry of results into the scoring program is completely eliminated along with scoring errors and disputes due to mis-readings. Using the BridgePad™ system, the typical long wait for the final results of a game is dramatically reduced – final results are published almost immediately following the completion of the final board.