LeoVegas comes on board as Gold Sponsor of Great Bridge Links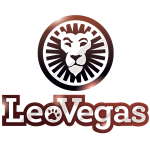 In the 1980s a bridge partner of mine used to talk about how he thought if someone could put a casino on the internet it would be pretty successful. Now it's 2017 and the online casino industry is very much a huge part of the web. If you type 'online casino' into google you get 7,310,000 results. Some of these casinos have been supporting Great Bridge Links and Gifts for Card Players through various levels of sponsorship.
Today we announce Gold Sponsor partners LeoVegas Mobile Casino.
Vidar Hwang, managing the sponsorships for LeoVegas Mobile Casino, announced today, "As Great Bridge Links was one of the first card-related sites on the web, it's with complete appreciation that LeoVegas, a mobile-first casino, sets forth as a sponsor. A thriving community of card-game players deserves the very best out of modern technology and with this online casino, there's no easier way to play."
LeoVegas is an award-winning mobile casino offering classic casino, live casino games, and the popular sports betting. Winner of "Casino Operator of the Year 2016" at both the International Gaming Awards and at the Gaming Intelligence Awards, "Mobile Operator of the Year 2016" at EGR Nordic Awards and "Best Innovation in Mobile and Tablet" at EGR Innovation Awards, LeoVegas is certain to present you with some of the best online casino gaming available on the itnernet today.
Slot machines have developed from simple mechanical 'one arm bandits' into hi-tech games that give you a shot at winning a life changing amount of money. Today's games are built using the very latest graphics and sound effects with familiar characters appearing such as Lara Croft and Batman; at LeoVegas you'll get them all and many more. LeoVegas also has a huge variety of classic table games such as roulette, blackjack and baccarat. It's games like these that draw people to places like Monte Carol, Baden-Baden and Las Vegas – why fly far away to play when you capon have them all in the comfort of your own home at LeoVegas? If the hundreds of games weren't enough we now have another new and exciting form of entertainment with LeoVegas Sport! You can place bets on over 30,000 events each year including football, golf, basketball, baseball, hockey, horse racing, tennis and many, many more!
Sponsorship helps support Great Bridge Links
With the help of sponsorships such as this one, at GBL we are able to continue to update our pages on a regular basis. This month we will focus on the Bridge Apps page and our Bridge Tournaments page.
We also now hire writers to create interesting content for both Great Bridge Links and Gifts for Card Players. Be sure to check their articles sections regularly for the latest information, research and stories about cards, bridge, poker, and casino play.